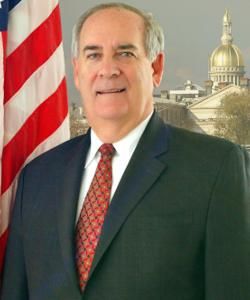 David Rebuck
Director
,
New Jersey Division of Gaming Enforcement
David L. Rebuck was nominated by Governor Chris Christie on April 29, 2011 to be the Director of the New Jersey Division of Gaming Enforcement, the casino regulatory agency within the Department of Law and Public Safety.
Rebuck was appointed as Assistant Attorney General on May 9, 2011 by Attorney General Paula Dow. Rebuck was confirmed by the New Jersey Senate on January 9, 2012. He was officially sworn in on January 24, 2012.
Rebuck has served as an attorney for 23 years as a Deputy Attorney General for the State of New Jersey and specializes in policy guidance and regulatory reform. He was assigned to the Governor's Office as a Senior Policy Advisor to Governor Christie in February 2010 and assisted in the Governor's initiative to reinvigorate Atlantic City and participated in overseeing regulatory reform efforts as a member of Governor Christie's Red Tape Review Group.
Rebuck joined the Department of Law & Public Safety in January 1988 as a Deputy Attorney General. He was instrumental in providing legal advice in the review of programs and operations within the department and assisted in the evaluation of the performance of various agencies in accomplishing their mandated governmental role and in the development and implementation of corrective action.
Rebuck earned a bachelor's degree from Gettysburg College in 1974. He earned a master's degree in higher education administration from the University of Vermont in 1978, and earned his law degree from Delaware Law School of Widener University in 1986. Rebuck was Associate Dean of Student Life at Ursinus College from 1978 through 1986, and was Assistant to the President of Radford University from 1986 through 1988.
He is a member of the Pennsylvania and New Jersey Bar.