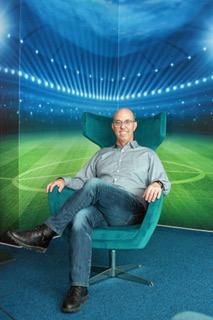 Gavin Isaacs
Gavin Isaacs is currently the non-Executive Chairman of SBTech and is on the Board of Directors of Galaxy Gaming Ltd. Gavin is also an advisor to Jackpocket, an online lottery app.
Gavin was appointed Vice Chairman of the Board of Directors of Scientific Games in August 2016 and has been a member of the Board since 2014. He resigned December 8 2018 to pursue future opportunities.
As Vice Chairman of the Board, Gavin has been integral in every key strategic move Scientific Games has made since 2014, including championing the game-changing mergers and acquisitions of NYX Gaming Group, Spicerack Media, and DEQ Systems Corp. – all of which brought key strategic products to Scientific Games' vast edge-to-edge product portfolio, including integrated sports betting solutions following the Supreme Court's overturn of PASPA, a decision that opened up the path to legalization of sports betting across the United States. As Vice Chairman, Gavin actively supports business development and customer relationships at Scientific Games through a strong partnership with the Company's sales team, and he mentors key executives.
From 2014-2016, as President and Chief Executive Officer of Scientific Games, with 2015 revenue of $2.9 billion, Gavin oversaw a gaming and lottery entertainment powerhouse that operated under a portfolio of successful brands, including Bally, Barcrest, Global Draw, SG Lottery, Shuffle Master, and WMS.
Gavin was instrumental in Scientific Games' 2014 $5.1 billion acquisition of Bally Technologies, and Bally's 2012 $1.3 billion acquisition of SHFL entertainment, and was pivotal in merging four companies (Scientific Games, Bally, SHFL, and WMS) into one strong, innovation-driven organization focused on empowering customers by creating the world's best gaming and lottery experiences. In only two years, Gavin grew annual revenues from $1.3 billion to $2.9 billion. During Gavin's tenure as President and CEO, Scientific Games' social revenue grew 100 percent to become the No. 2 ranked global social interactive business.
Gavin has a proven track record of success in leading company turnarounds and establishing companies on strong growth trajectories. Prior to joining Scientific Games in 2014, Gavin served three years as the Chief Executive Officer of SHFL entertainment, where he grew the company to record revenues, globally expanded the slot business, and created meaningful opportunities in specialty table-game brands both in brick-and-mortar casinos and online. At SHFL, Gavin transformed SHFL into a leading into a leading global gaming innovator and supplier with key financial achievements including EBITDA growth from $64 million in FY2010 to $88 million in November 2013, representing a CAGR of 13.4 percent, and EPS growth from $0.43 in FY2010 to $0.70 at the time of sale, representing a CAGR of 21.5 percent and created share price appreciation of 122.1 percent over tenure. At SHFL, Gavin oversaw the launch of SHFL Interactive, the company's online gaming business, through in-house research and development and key strategic partnerships. Gavin also oversaw the rebranding of SHFL from Shuffle Master to SHFL entertainment.
Before that, as Executive Vice President and Chief Operating Officer of Bally Technologies, Gavin oversaw the rollout of the company's new slot platform and sophisticated new slot cabinet family and was responsible for double-digit growth of participation revenue, as well as the company's re-entrance into the Australia market. At Bally, Gavin introduced and drove operating process improvements including working capital improvements through inventory reduction, Six Sigma Lean Manufacturing, and quote-to-cash, which resulted in production lead time reduction from 17 weeks to five weeks. During Gavin's Bally tenure, revenues grew 18 percent while profits increased eight-fold to $177 million over a four-year period.
Prior to joining Bally, Gavin served nearly eight years with Aristocrat Leisure Limited. During his tenure, Gavin held key management positions, including General Manager, Legal and Compliance; General Manager, Marketing and Business Development; and Managing Director, Europe, before being asked to move to the United States in 2003 as Americas President following a massive profit downgrade, departures of key executives, and $1 billion drop in market value.
In this role, Gavin orchestrated a momentous turn-around of the Americas business; just three years later, Aristocrat Americas became the largest financial contributor to the Aristocrat Group, posting record revenues, unit sales, and recurring revenues while achieving substantial margin increases. Revenues for the Americas increased 100 percent to A$500 million, supporting by a gaming unit sales increase of 75 percent and recurring revenues climbing to 20 percent of sales; gross margins rose to 37 percent.
Before joining Aristocrat, Gavin served three years as a partner with the Australia law firm DLA Phillips Fox.